WereWolf Systems
On Point Technologies, Inc.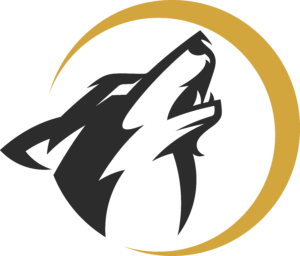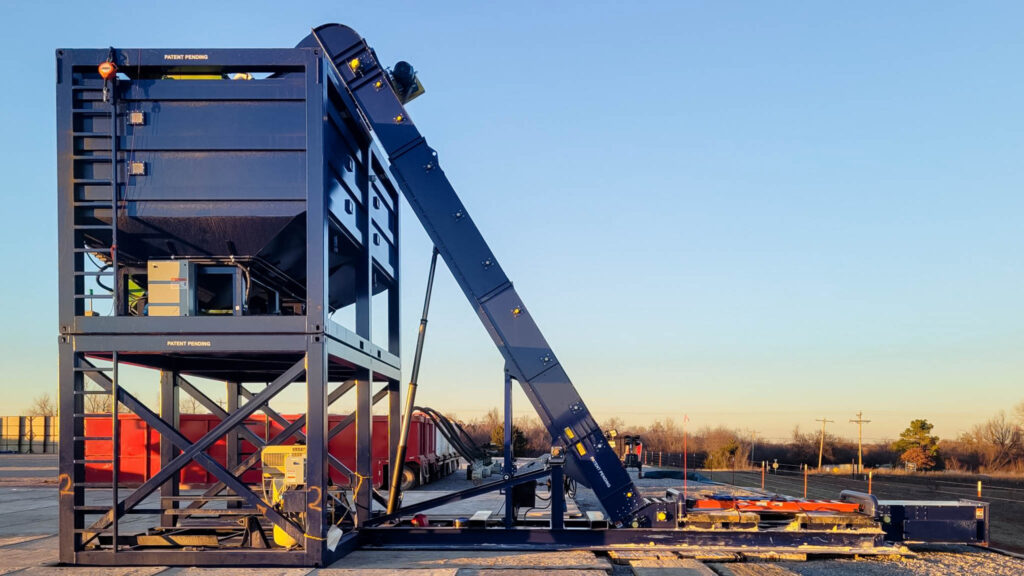 The WereWolf System
The WereWolf System is a culmination of years of experience at the forefront of bottom drop systems and logistics. The On Point Team set out to create a system that addresses the major gaps between bottom drop logistics and containerized sand storage. The WereWolf System creates a unique world, allowing for the most efficient style of logistics to couple with the reliability, flexibility, and simplicity of containerized sand storage.
For the first time, bottom drop trailers, that maximize payload, can deliver proppant to a frac location that is using containerized sand storge.
Introducing the WereWolf System to a wellsite provides immediate cost savings, HSE, and ESG benefits compared to traditional logistics means. With the ability to deliver sand into the system at a rate up to 15,000 lbs per minutes, the WereWolf System introduces only one all electric belt to the wellsite. Gravity is used to fill the boxes on the wellsite at a rate of 1,000 lbs per second. The single belt and use of gravity create a solution that has minimum moving parts when compared to other bottom drop systems. Coupling the WereWolf with a tried-and-true containerized sand system creates a system that is truly modular, reliable, and logistically redundant to meet the demand of any wellsite layout or throughput.
System Benefits
Of the Patent Pending WereWolf Technology
Major reduction in the number of sand containers per pad
Reduced box count
Reduced footprint on pad
Reduced cost
Modular storage capacity
Reduced forklift movements
Increased Payload Provides HSE and ESG Benefits
Less trucks needed per shift
Less loads delivered to pad
Less truck traffic
Less miles driven
Less diesel burned
Less CO2 emissions
Logistical cost savings to end users versus pneumatic or sand container logistics
Maximize truck payload
Redundancy in on road
supply chain
System accepts the largest
variation of trailers in
the market
Frac sites are no longer
dependent on a single
trailer type
How The WereWolf Sand System Works: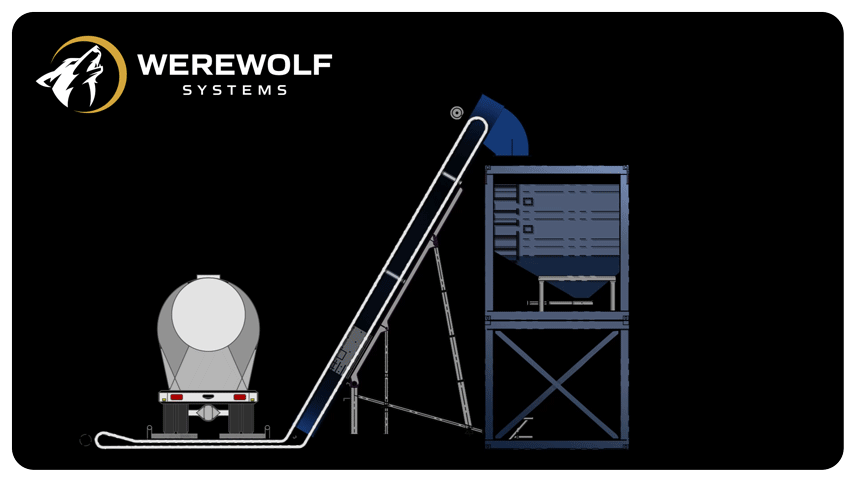 The bottom drop trailers empty their payload onto a drive over belt where sand is conveyed into a surge bin. In an automated process, containerized sand storage boxes are filled to their maximum volume capacity at the frac site.
Each container filled on location with proppant is automatically weighed and logged into the onsite inventory management software.
The WereWolf System is a fully contained unit with its own dust suppression and filtration system.
Once filled containers are moved and emptied into the blender via their traditional means.